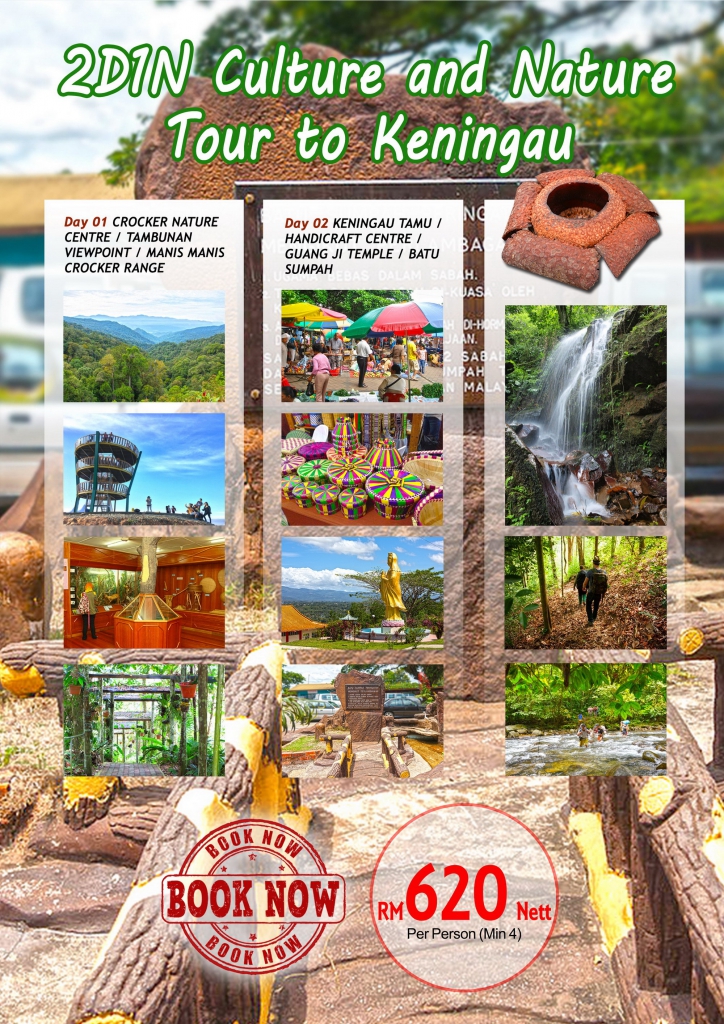 Day 1 : Depart from Kota Kinabalu City - Manis Manis Crocker Range
Pick up from your hotel at 9am and travel overland 105KM from KK City approximately 2 hours on road to reach Manis Manis Crocker Range. After registration at Manis Manis, follow your guide for a nature walk exploring the Crocker Range Park.
Visit to :
•Crocker Nature Centre – An exhibition centre is open from 9am-4pm daily.
•Observation Tower – A platform for visitors to appreciate panoramic view of Keningau town and surrounding area.
•Fernarium – The main objective of the fernarium is to house as many species of fern as possible. At present, 229 species of fern found in Sabah, including the giant fern tree is recorded here.
•Insecterium – This insecterium covering an area of 5 ha is set up to be a showcase of live insects in this area. Plants which are known to attract and provide food for insect has been planted in the garden.
Overnight at Manis Manis Crocker Range.
(Lunch, Dinner)
Day 2 : Tamu Keningau
After breakfast, 0900hrs check out from your accommodation and transfer to visit Tamu Keningau. It is a great place to see traders displaying and selling their goods, from fresh produce to a variety of handicrafts. Look for their great range of handwoven baskets and trays, a product of the industrious Kadazandusun people. Keningau is the most prominent district in the interior part of Malaysian state of Sabah. Just like most other districts in Sabah, it is a multi-racial place with Dusun & Murut being the major ethnics. After visiting Tamu Keningau, we will visit Keningau Downtown and its interesting landmarks such as Guang Ji Temple and Batu Sumpah.
After lunch transfer back to KK City and drop off at your KK City Hotel.
(Breakfast, Lunch)