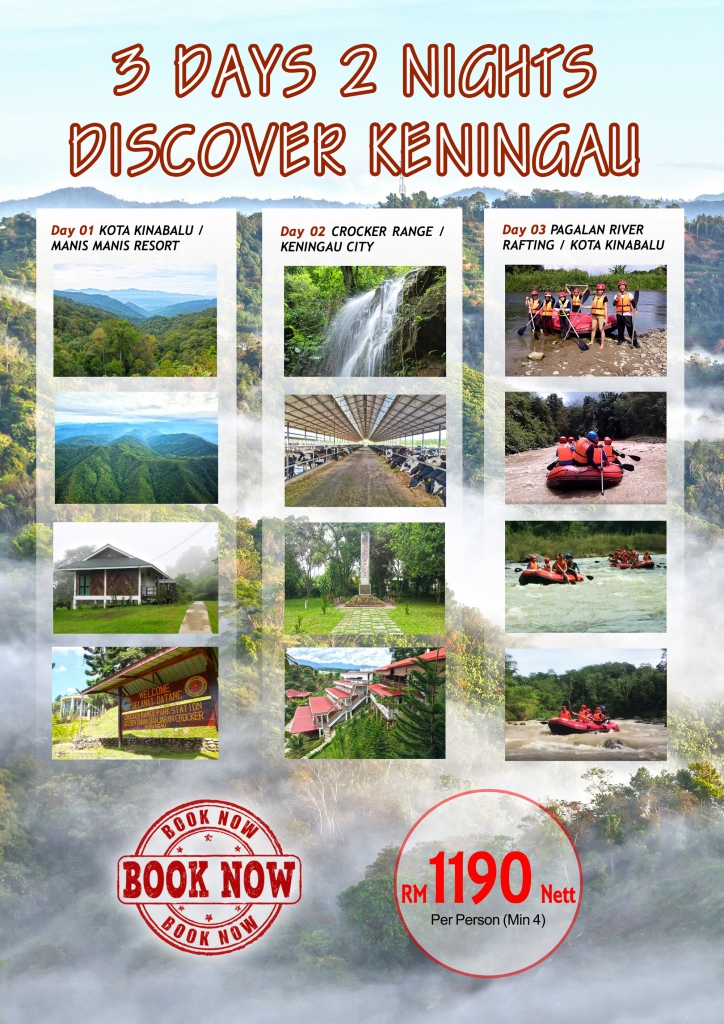 DAY 01 KOTA KINABALU / MANIS-MANIS RESORT (L,D)
Depart to Manis Manis Rooftop Resort located at the heart of Crocker Range Park, a UNESCO accorded World Biosphere Reserve, serves as a gateway to the hidden natural treasures within Sabah's rainforest. Rafflesia, fern, orchid, jungle vines and lianas are among the interesting collection you will find. If you are skillful, you will be able to spot endemic species of birds, insects, and frogs. And if you are extremely lucky, you might encounter slow loris, sambar deer or even clouded leopard!. The resort is an ideal venue for relaxation, jungle trekking, camping, nature education and also meeting. Enjoy the cool mountain breeze and the sound of nature, with temperature around 18°C at night and 24°C during day time.
Overnight at Manis-Manis Rooftop Resort
DAY 02 CROCKER RANGE / KENINGAU CITY (B,L,D)
After breakfast, proceed to jungle trekking (Crocker Trail, 2.036 km).
Crocker Range with its 139,919 hectares of land, is the home to thousands of flora and fauna, some are endemic to Borneo. The huge undisturbed mixed dipterocarp forest (MDF) and pristine montane & upper montane mossy forest is particularly very high in species diversity. The park is home to some 106 species of mammals, including the endangered Clouded Leopard, Sun Bear and Borneo's iconic Orang Utan. Return back to the resort. Lunch and checkout
Proceed to Eco Yap - the brand name for Evergreen Livestock Farm owned by Datuk Yap Yun Fook. The current site of the farm sits on 276 acres land overlooking Keningau Town and thereafter visit to Cho Huan Lai War Memorial.
Overnight at Mee Woo Resort
DAY 03 PAGALAN RIVER RAFTING / KOTA KINABALU (B,PL)
Transfer to Kapayan Recreation Resources, safety briefing conducted on the Pagalan river bank precedes your adventure with provides a Grade III to IV experience. Deep pools punctuate the river rapids, giving you ample opportunities to indulge in body rafting or swimming. The river journey takes 3 to 4 hours, depending on the river stage. After the exhilarating raft, enjoy packed lunch before returning to the city.