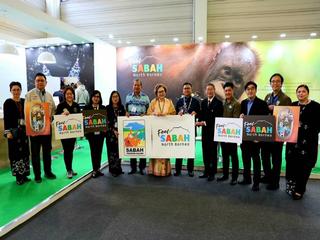 "FEEL Sabah, North Borneo" was launched at the world's largest tourism trade fair, ITB Berlin 2023 (Internationale Tourismus-Borse Berlin), in an attempt to lure westerners to Borneo which they most readily identify with.The rebranding was developed by Sabah Tourism Board (STB) with the idea of incorporating "North Borneo" for sentimental and historical reasons and was the brainchild of Minister Datuk Christina Liew who led a 10-member delegation to this global event.Launching the rebranding at the Messe Berlin, Christina said it was most apt to adopt this promotional theme as the international community would immediately know that Sabah is located in the northern part of Borneo Island. This is in the hope of fascinating and wooing more European tourists, among others.

"The name 'North Borneo' sounds exotic and evokes nostalgic feelings of yearning for this destination. It is also of historical significance as the State was then known as 'North Borneo' prior to gaining independence through the formation of Malaysia in 1963. "People in many parts of the world haven't heard of Sabah, despite decades of promoting the 'Land Below The Wind' to the outside world, let alone know about our diverse natural attractions and iconic wildlife. However, we are aware that at the mention of Borneo or North Borneo, it rings a bell. Europeans, in particular, associate Sabah with Borneo. Hence, we are determined to rebrand this tourist destination with 'Feel Sabah, North Borneo' to create a new identity in the travel marketplace," Liew said after the launch. Sabah is home to spectacular natural wonders such as Mount Kinabalu, Maliau Basin and Tip of Borneo, she added. The delegation comprised Assistant Minister cum STB Chairman Datuk Joniston Bangkuai, the Ministry's Permanent Secretary Datuk Mohd Yusrie Abdullah, STB Chief Executive Officer Noredah Othman as well as ministry and STB officials. With the recent resumption of international direct flights, cruise tourism and optimism about mounting regular or chartered flights from new destinations, Liew said Sabah targets 2.2 million arrivals for 2023 and would work towards attaining 2.5 million arrivals. "If we succeed in hitting the 2.5 million mark, this would indicate an increase by 45.35pc compared with 1.72 million arrivals in 2022." According to her, Sabah's top feeder markets in the past (based on 2019 data) had represented a good mix of Taiwan, China, Brunei, Singapore and South Korea.

"For Europe specifically, our top inbound tourism markets are from Germany, France, Netherlands and Italy." Plans are afoot to explore prospects of luring tourists from new tourism markets in America, Australia, Japan and India via tourism roadshows by STB. Borneo Eco Tours, Borneo Nature Tours, Borneo Trails, Rustic Borneo, Sepilok Tropical Wildlife Adventure and Tabin Wildlife Reserve from Sabah are participating in ITB Berlin 2023. • The Daily Express had, in 2009, confirmed through the Martin and Osa Johnson Safari Museum in Kansas, USA, that Sabah (then British North Borneo) was the subject of the world's very first wildlife documentary as featured by the Johnsons in their 1920 Hollywood silent movie called "Jungle Adventure". Contained in that documentary which is now the property of the US Library of Congress are images of the tribals linked to headhunting in the Kinabatangan like the now-forgotten Rumanau Dusuns and Tanggara Muruts.The world came to know of the tribals and wildlife of Central and East Africa including Congo, Kenya and Tanzania only after those of North Borneo, also by the Johnsons, who returned to the then State capital Sandakan 15 years later to film "Borneo" this time one of the earliest wildlife talking movies with the incorporation of sound.Both "Jungle Adventure" and "Borneo" helped to cement the third biggest island's reputation as a destination that was both mysterious and exotic... Read more...