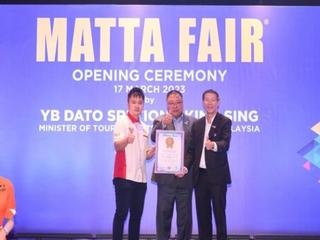 KUALA LUMPUR, 12 April 2023: The Malaysian Association of Tour and Travel Agents (MATTA) confirmed that the move to the MITEC venue worked with more than 180,000 travel consumers visiting the MATTA Fair the three days, 17 to 19 March 2023.
The event moved this year to the Malaysia International Trade and Exhibition Centre (MITEC) in Kuala Lumpur, ending decades of hosting at the city's World Trade Centre.
From left to right: Aaron Bong Ken Jin, Deputy General Manager Marketing, Malaysia Book of Records. YB Dato' Sri Tiong King Sing, Minister of Tourism, Arts and Culture Malaysia (MOTAC). Datuk Tan Kok Liang, President of MATTA.
During a media briefing that reviewed the MATTA Fair performance, MATTA president Datuk Tan Kok Liang said the fair fielded 1,416 booths covering an area of 39,000 square metres of exhibition space, enabling the Malaysia Book of Records to recognise the event as the country's largest International Travel Fair.
Leading exhibitors attending the show included 19 National Tourism Organizations (NTO), 13 State Tourism Organizations (STO), and over 220 corporate exhibitors.
Numerous new and upcoming destinations, such as Saudi Arabia, Dubai, Uganda, Kyrgyzstan and Zimbabwe, increased their presence during the show.
Total sales turnover was slightly more than MYR300 million, with domestic sales alone accounting for MYR 34 million. Average spending per customer increased across all tourism verticals, demonstrating that there was still plenty of pent-up demand for travel and that consumers remained confident in their spending despite the global economic downturn. Read more....