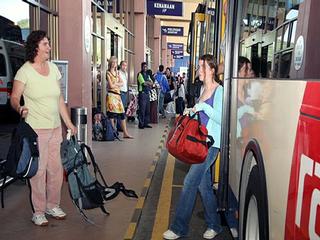 PETALING JAYA: The tourism industry is hopeful that Putrajaya will introduce tax incentives in Budget 2020 to upgrade tourist buses and vans, saying many of these vehicles are the same models that were used 30 years ago.
Malaysian Association of Tour and Travel Agents (Matta) president Tan Kok Liang said tourists ought to be brought to their hotels in "the most modern fleet of buses for tour groups, and luxury vans", in time for Visit Malaysia Year (VMY) 2020.
"We should not be operating the same vehicle models used 30 years ago during the first Visit Malaysia Year in 1990.
"But this is what passengers will be getting if the authorities do not review existing policies," he said in a statement today.
He urged the government to review the current import and excise duties tax structure as well as import permits to help operators upgrade their vehicles.
He said the existing policies on import permits, excise and import duties have made luxury tourism vehicles unavailable in Malaysia or too costly for tour operators.
Many of these models include those assembled in non-Asean countries.
"For VMY 1990, excise duty was exempted for locally assembled cars licensed under limousine taxis, and many Mercedes saloons were licensed and used as tour cars," he added.
He said Matta was preparing a list of vehicles that could raise tourism transport to international standards. The list will be submitted to the finance and international trade and industry ministries.
According to Tan, the association has made "a dozen proposals", mainly for inbound and domestic tour companies.
These include new tax incentives and extensions for those about to expire; lowering qualifying criteria to help small and new industry players; and full tax deductions for costs in developing or improving websites to compete in e-commerce.
"Other incentives proposed were meant to spur the development of rural tourism for the benefit of local communities," he said, adding that attractive incentives could also be offered to make Penang and Port Klang home ports for cruise ships which could create a host of supporting industries.
See full news at freemalaysiatoday