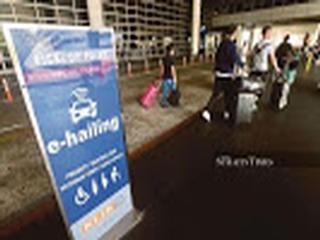 EPANG: Passengers are caught unawares by the new pick-up points for e-hailing services at the Kuala Lumpur International Airport (KLIA) and klia2, which came into effect yesterday.
On Friday, Malaysia Airports Holdings Bhd issued a statement that the new pick-up points are at Doors 3 and 4, Level 1 of the Main Terminal Building KLIA and at Door 5, Level 1 of the Transportation Hub at KLIA2
Previously, e-hailing drivers could pick up passengers at Level 3 of KLIA's arrival hall and Level 2 arrival hall of KLIA2.
Checks by the New Sunday Times at the arrival hall at Level 3 of KLIA saw many e-hailing drivers were still picking up their passengers there.
Both passengers and e-hailing drivers said they were in the dark over the new regulations.
Raj Kumar, 43, said he usually booked the service on Level 3 as it had always been the designated pick-up point.
"I am not aware of the new pick-up points.
"When I booked a ride today (yesterday), the pick-up point was indicated at Level 3."
He said Grab recently sent him a notification... read more