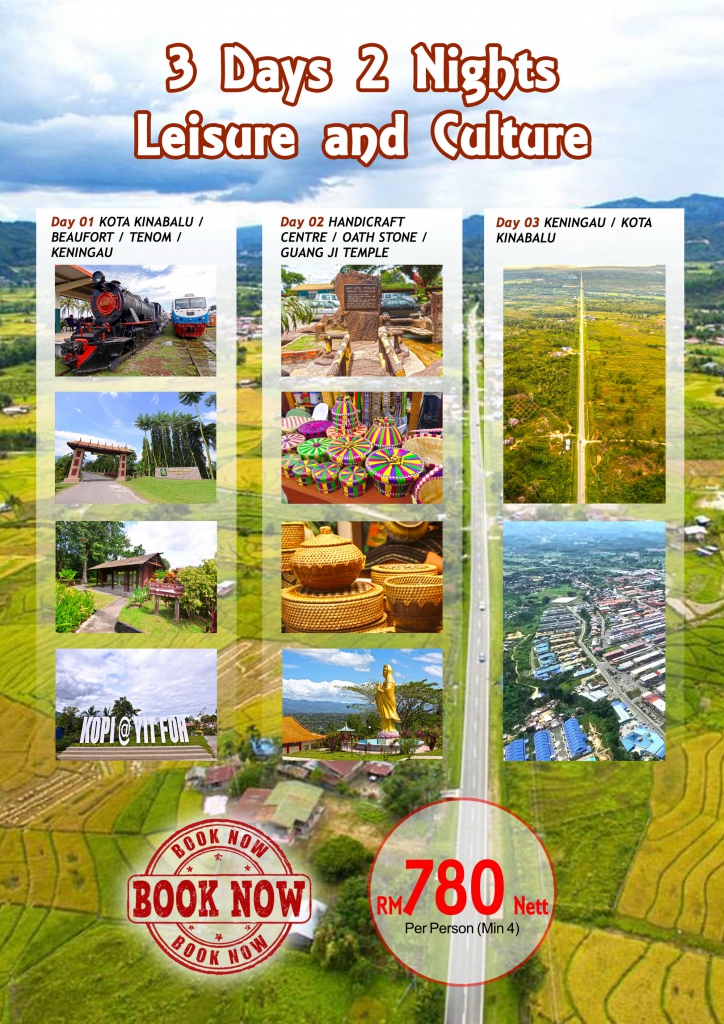 Day 01 Early morning, take a 2 hours drive from Kota Kinabalu to the south of the State to a quaint little town called Beaufort. Upon arriving at Beaufort, a short coffee break before heading to the Train Station for a 3 hours train ride to Tenom. The main attraction is the journey between these two towns itself. Connecting Beaufort to Tenom is a service by Sabah State Railway that is known as one of the most unique train routes still operating in Malaysia. This is a train ride that creates a memorable experience with a blend of scenic views of rainforest and river, friendly locals and the thrill of being onboard an "antique" train.
In Tenom visit Sabah Agriculture Park. The Sabah Agriculture Park (Taman Pertanian Sabah) is situated on a 200 hectare site and was developed and maintained by the Agriculture Department. It is a park that offers visitors both recreational and educational activities. Sample Tenom Coffee by visiting one of the Coffee Factory. And before heading to Keningau, visit Murut Cultural Centre. The cultural centre houses an interesting gallery which displays many artifacts such as jars, gongs, and traditional designs of the indigenous Murut inhabitants. Drive leisurely for about 40 minutes to reach Keningau.
Keningau is a district and it is the oldest and largest town located in the Interior Division of Sabah. The following towns, suburbs and neighbourhoods comprise the area. Apin-Apin, Bingkor, Bulu Silou, Nabawan and Sook. Etymology and History, the name Keningau is derived from the locally-abundant Javanese cinnamon tree which is locally known as Koningau. The tree is known as 'Kayu Manis' in Malay, and is sometimes also referred to as the 'king of spices'. The bark of this tree was collected by the British North Borneo Company to be sold as a spice. During the British colonial era, Keningau was one of the most important administrative centres in British North Borneo. The Japanese also used Keningau as one of its main administrative centres during their occupation of Sabah in World War II.
Dinner and overnight at hotel. (L/D)
Day 02 After breakfast, embark on a tour of Keningau and its surrounding. Our first stop will be to sight the prominent "Oath Stone" which now stands as a monument of promise between the people of Sabah and the Malaysian Government prior to the formation of Malaysia. Look closely and you will see the inscription on the oath stone that remarks several points that the people of Sabah has control of over their land. Then proceed to Yayasan Sabah Handicraft Centre. Pusat Kraftangan Sabah was established back in 2012 with the main purpose of preserving and promoting Sabah's handicraft to the local and international markets. The centre was officiated by The Right Honourable, Datuk Seri Panglima Najib Tun Haji Abdul Razak , Prime Minister of Malaysia on the 16th June 2012. Pusat Kraftangan Sabah operates as a training ground for the local natives of Sabah in handicrafts for forest-based products, earthenware,textiles, and other forms of productions. The centre proudly announced its trained personnels exceeding 19,626 trainees with over 1,043 training courses (2011-2016).
After lunch take a little drive over to the Guang Ji Temple. It is situated high on a hill with a magnificent view of Keningau Valley right in front of you. It is visitor-friendly with a number of concrete tables and benches ready to serve you with the comfort of savoring the beautiful view and letting your skin be chilled with the wind that blows up from the valley. Return to your hotel and free at your own leisure.Visit the night market after dinner. Overnight. (B/L/D).
Day 03 After breakfast, check out and return to Kota Kinabalu via the Keningau/Kimanis Highway, with a stop over to have coffee at one of the Restaurant along the way. Arrive Kota Kinabalu in time for lunch. (B/R)